OCEANIA
---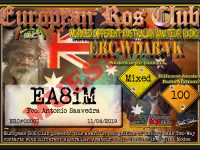 ERC-WDAR-VK RULES
Director of awards EB5AG
In recognition of the two-way international ERC amateur radio communication, the DIGITAL MODE
The Digital Mode Club (ERC) issues Worked-AUSTRALIA certificates -Stations-Award for
Amateur radio stations of the world. The qualification for the ERC-WDAR-VK award is based
in an examination conducted by the ERC-WDAR-VK Award Manager, of QSOs that the
applicant has contacted amateur radio station AUSTRALIA with a minimum of 25
Different amateur radio stations each with a different call sign. All contacts must same country.
Band endorsements for 6, 10, 12, 15, 17, 20, 30, 40, 80 and 160m
Levels:-

WDVK

 -10-15-25-50-75-100-125-150-175-200-300-500-750-1000-1500-2000
DESIGN-EA8IM-TOÑO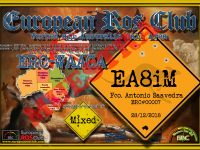 ERC -WAACA RULES
Award Manager EB5AG
In recognition of international amateur radio communication, the ERC DIGITAL MODE
Digital Mode Club ( ERC ) issues Worked-All-Australia-Award certificates to
amateur radio stations of the world. Qualification for the DIGITAL MODE ERC-WAACA award is based on
an examination by the ERC- WAACA Award Manager, from QSOs that the applicant has
made contacts with one amateur radio station from each Australian Call Area (

VK1,




VK2, VK3, VK4, VK5, VK6, VK7, VK8

) . All contacts must be made from the same
country. Band endorsements for

6, 10, 12, 15, 17, 20, 30, 40, 80

and

160m

available.
MANAGER                               PRIZE DESIGN
EB5AG                                                 EA8IM 
Non-EPC members please download the necessary UltimateAAC software from the website www.epc-mc.eu
CHOOSE the Downloads menu, which the UltimateAAC menu, which the Windows menu, MacOS X or Linux, depends on your operating system. After installation, you must complete the requested data. That's it … at the Ultimate Reward Request Center (see photo) you choose the Club to which you request a prize.

For any help needed, click on Video Tutorials on the EPC-MC website.
If you have technical problems to request our prizes, always use the most recent version of the UAAC software available!
THERE IS NO MORE PRIZE FOR E-MAIL!
A special thanks to EPC and Heinz, DK5UR for supporting us with their UltimateAAC software, and an infinite time programming for us, this is the true "HAM Spirit"