REGLAS ( DSA ) digitales Sud America
En reconocimiento de la comunicación de radioaficionado internacional ERC bidireccional, el modo digital ERC EUROPEANROSCLUB emite certificados de los paises de SUD AMERICA para estaciones de radioaficionados del mundo. La calificación para el premio ERC DSA se basa en un examen realizado por el ERC .DSA Award Manager, de QSOs que el solicitante ha realizado con estaciones de aficionados en cada una de los Paises de Sud America, que se denominan
Se otorgaran 2 diplomas 
Argentina
paraguay
Bolivia
Brasil
chile
Colombia
Ecuador
Guyana
Peru
Surinan
Uruguay
Venezuela
Todos los contactos deben realizarse desde el mismo país o territorio separado dentro de la misma área continental del mundo.
La lista QSO debe mostrar el indicativo de llamada, modo, banda y continente para el premio ERC- DSA solicitado. SÓLO ENVÍE UNA LISTA DE QSO NECESARIOS COMO ARCHIVO DE TEXTO (.TXT),
 ¡NO ACEPTARÉ NINGÚN OTRO ARCHIVO!
Recibirá su Premio (archivo .jpg) por correo electrónico sin cargo.
NOTA ¡Los endosos de BANDA NO están disponibles!
Por favor envíe su lista de QSO al siguiente correo electrónico: eb5ag0809@gmail.com
SOLO PARA MIEMBROS ERC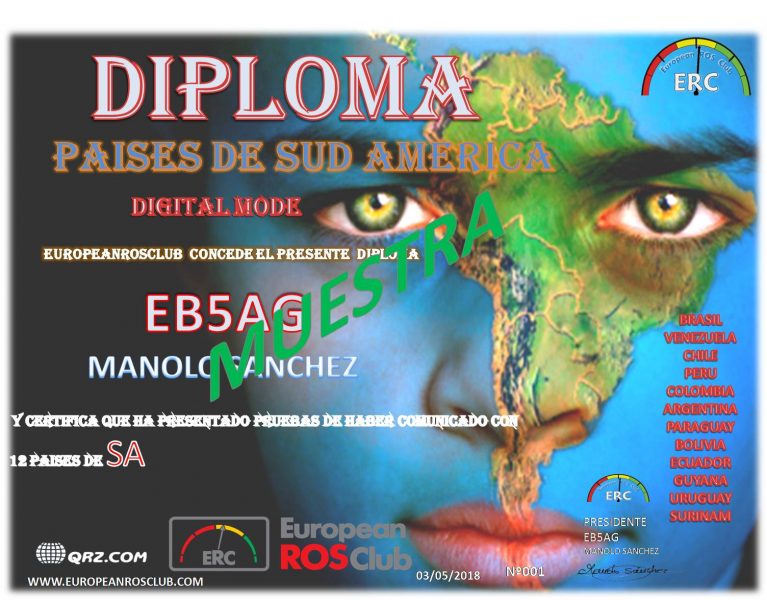 Digital RULES (DSA) Sud America
In recognition of the bidirectional ERC international amateur radio communication, ERC   EUROPEANROSCLUB digital mode issues certificates from the countries of South America for amateur radio stations in the world. The qualification for the ERC DSA award is based on an examination carried out by the ERC .DSA Award Manager, of QSOs that the applicant has made with amateur stations in each of the countries of Sud America, which are named
2 diplomas will be awarded
6 countries
12 countries
Argentina
paraguay
Bolivia
Brazil
Chile
Colombia
Ecuador
Guyana
Peru
Surinan
Uruguay
Venezuela
All contacts must be made from the same country or separate territory within the same continental area of ​​the world.
The QSO list must show the callsign, mode, band and continent for the requested ERC-DCA award. ONLY SEND A LIST OF QSO NECESSARY AS A TEXT FILE (.TXT),
  I WILL NOT ACCEPT ANY OTHER FILE!
You will receive your Prize (.jpg file) by email without charge.
NOTE BANDA endorsements are NOT available!
Please send your QSO list to the following email: eb5ag0809@gmail.com
ONLY FOR MEMBERS ERC